ABOUT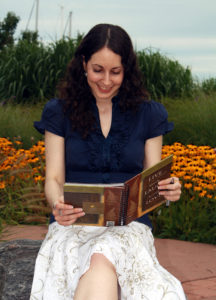 **Marking Humanity is now also available in EBOOK format! Check out how you can dive into the book's lessons through Amazon, Indigo, and other retailers.
Based in Toronto, Canada, Shlomit Kriger enjoys sprinkling inspiration and awareness through the arts and making a positive difference in others' lives. She holds a Bachelor of Journalism degree from Ryerson University and has covered dynamic people and ventures for diverse news outlets and organizations. Her articles have appeared in such publications as This Magazine, Thornhill Liberal, Ryerson University Magazine, Canadian Jewish News, Good News Toronto, and the Jewish Tribune and One80, for which she also served as staff reporter and editor respectively. She also crafted articles and press releases for groups and organizations such as the Toronto Region Immigrant Employment Council, Ve'ahavta: The Canadian Humanitarian & Relief Organization, York Region Conservatory of Music, and Health as a Bridge to Peace at York University.
In 2005 Shlomit coordinated Ve'ahavta's 6th Annual Creative Writing Contest for the Homeless. She organized and helped deliver creative writing workshops for homeless youth and adults at shelters and drop-in centres across the Greater Toronto Area and recruited notable volunteer judges, including former Thornhill Member of Parliament Susan Kadis and award-winning author Vivian Jeanette Kaplan. The contest garnered media coverage in several local newspapers, and she assisted in producing a zine featuring the winning entries that is available through Ve'ahavta.
Theresa Schrader, the grand prize winner in the year Shlomit ran the Ve'ahavta contest, has since turned her life around and now educates and empowers others as a social worker. In 2011 Theresa coordinated the 10th annual contest, and Shlomit served as one of the judges. As part of her volunteer work with Ve'ahavta, Shlomit had also founded and edited a magazine-style newsletter for the organization's former Vaughan chapter.
Inspired by her meaningful experience coordinating Ve'ahavta's writing contest and her grandfather's fight for peace with the Red Army during World War II, Shlomit compiled and edited Marking Humanity: Stories, Poems, & Essays by Holocaust Survivors (Soul Inscriptions Press). The book features the photos, bios, and 70 writings of 46 survivors from six countries. Some of the survivors have joined her in giving presentations to various community groups. They aim to bring to light lessons from the Holocaust and the various acts of discrimination and violence that continue to afflict humanity in hopes of inspiring more initiatives, education, and awareness to help people create positive shifts so future generations discover the true meaning of Never Again. Marking Humanity has received local and international media coverage.
Having crafted her own poetry, songs, and short stories since age nine, Shlomit weaves a literary kaleidoscope blending reality and illusion. Her creative pieces stretch readers' emotions and imaginations, sometimes also pushing them to dive deeper into societal issues. In the last few years, she has also dabbled in drawing and painting. She has shared some of her pieces at arts festivals held by Back Burner Productions and the That's Women's Work Arts Network, as well as at various open mic events in the Greater Toronto Area. Having also taken courses in Expressive Arts Therapy (The CREATE Institute) and Arts Education (The Royal Conservatory School), she continues to explore how the arts can be used to help people express themselves, become empowered, and heal.
Shlomit has also enjoyed giving back with volunteer roles such as life skills KidCoach through Future Possibilities for Kids, member of the JIAS Toronto Conversation Café program to help newcomers practice speaking English, and copywriter for a brochure on domestic abuse for Act to End Violence Against Women.
"And in the end, it's not the years in your life that count. It's the life in your years."
– Abraham Lincoln